Smart
Document Framework
Secure system for generation and verification of smart document authenticity



Document authentication system allows you to create tamper proof version of printed document
or its digital twin with offline or online verification of authenticity using mobile application.

System architecture provides ecosystem to design, create, sign and verify authenticity of any kind of document that needs to be protected against unwanted tampering. By using standardized PKI infrastructure features, document tampering is impossible.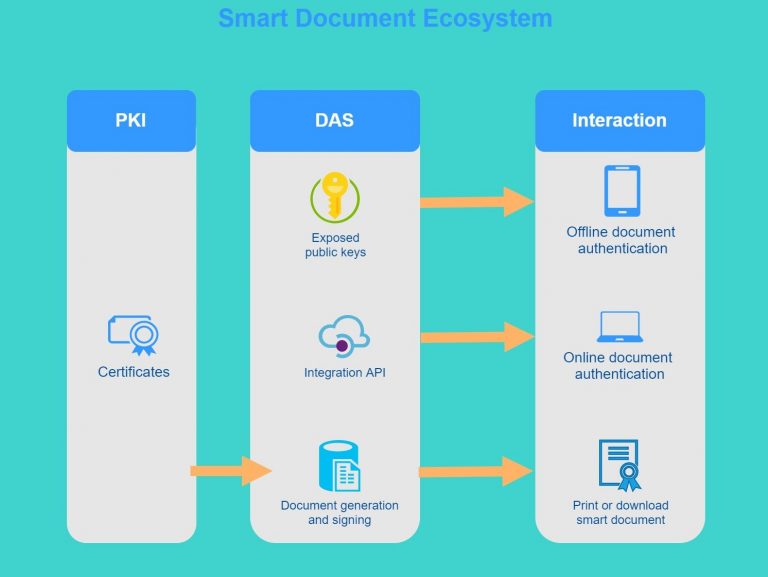 A smart document can be in printed form or purely digital and stored, for example, on a smartphone
application or a cloud-based server. It  can provide a way to mitigate fraud and falsification of "paper only" documents by having a "digital twin" that can be verified and validated in a reliable and trusted manner.
Addition element to a printed document is in form of 2D barcode digital stamp which stores all relevant document data in digital form and signed using PKI infrastructure of document issuer to enable authentication of document itself.  By using that approach it is possible to verify authenticity od document in purely offline mode with our mobile application or by online verification using exposed system API.
turnkey solution to create, sign and verify smart documents
system deployment in private cloud or licensed
integration of client's PKI infrastructure per choice
support for different 2d data carriers – QR code, Datamatrix, Aztec Code
verification applications for Android and iOS
REST API for online verification of smart documents
data carrier formats XML, JSON, HL7 FHIR, CBOR, COSE
compatible with WHO and EU rules for smart vaccination certificate / digital green certificate
Document Generation Service
PKI Infrastructure